FEATURES
INFO & CARE
MAYA'S TIPS
CUSTOMER REVIEWS
FEATURES
HOW IT WORKS
This bundle includes 2 Allover Bibs. While we can't totally help ease the pain of messy mealtimes, we can make the clean-up easier. Our Allover Bib contains your little one's mess at mealtime by covering everything from neck to toe, including the highchair! The single layer construction keeps yucky gunk from getting trapped, and our water and stain resistant fabric makes cleanup a breeze.
HOW TO USE
It's as simple as pulling over your little one's head and over the highchair! Use a bowl or plate on top, or place food on the plate outline directly on the bib! Once mealtime is complete, remove the bib by pulling over the baby from back to front (to avoid getting food in their hair or face). Then just shake, wipe, and you're all set to use it again! After several uses, machine wash on the gentle cycle for a deeper clean. Make sure to hang dry only (no dryer)!
WHY WE MADE THIS
Children are meant to be messy, but parents and caregivers don't have to suffer. We are all about little one's independence while keeping ourselves sane!
INFO & CARE
Our Allover Bib is wipeable and machine washable for the easy clean up you have been dreaming of!
Measurements
Sized to fit 6-24 months comfortably with stretchy elastic neck and arm holes. The loose hem allows our bib to fit all types of highchairs while it also keeps baby cool.
BPA Free
PVC Free
Lead Free
Phthalate Free
Vinyl Free
Machine wash, gentle or delicate
Hand wash
Hang to dry
Do not machine dry
MAYA'S TIPS
LET THEM BE MESSY
Children explore through touching. Mashing food supports their sensory development.
Let them play with their food. You can engage with them by asking if the food feels good, is it also yummy?
KEEP YOUR SANITY
Supporting our kid's development doesn't have to come on the expense of our sanity! To manage the mess - put small quantities of food for them to play with and add bigger quantities once they seem satisfied with their playing and ready to eat.
EASY TO CLEAN
I'm not the washing machine's slave! Take advantage of the Allover Bib's water resistance and reuse it as much as possible by shaking and wiping. To avoid food smell, use a scented wipe – until it really has to go into the washing machine! Remember hang dry only!
CUSTOMER REVIEWS
Customer Reviews
Write a Review
Ask a Question
Filter Reviews:
bibs
hands
meals
food
arms
some
ground
mouth
dinner
chair
06/11/2021
Jessyca P.

United States
06/07/2021
Anonymous

United States
I recommend this product
Not bad
It's good but when taking it off, it's kind of difficult to get it off without some of the mess getting on the baby . But it's great for keeping the mess to one place
06/03/2021
Anonymous

United States
I recommend this product
Meal time life saver for twins
These are great! The work perfect to contain the slimy fingers on my twin boys. Highly recommend!
05/06/2021
Teresa M.

United States
05/03/2021
Amanda C.

United States
I recommend this product
Help with mealtime clean-up? Yes please!
As a mom who wanted to let my baby try new foods and explore eating from an early age, I learned really quickly how many outfits I was going to ruin no matter how many bibs I would put on her. Food always ended up in her lap or down inside the high chair. That got old fast, as did constantly trying to get stains out of the laundry. When I saw the Grabease All-Over Bib, I decided it was worth a try. SO worth it! Makes clean-up after meals much easier, just wipe down her arms, hands, and face, and pop it over her head. The messiness of dinner is contained inside the All-Over Bib until I have the energy to deal with it later (let's be real, it often sits there until after bedtime). When I do clean it up, I dump the extra food in the trash, rinse off the All-Over Bib in the sink, and toss it in the laundry. I wash them on the delicate cycle with my other baby clothes or with dish towels, and they do just fine. If there is anything I don't like, it's maybe that baby sometimes plays with the bib. Because of the extra fabric, she can lift it up and dump her food on the ground. Also, due to the universal nature of the sizing, the neck and arm holes are a tad big on my baby. Sometimes messy liquids can make it down her neck or she'll pull a hand or two back inside the bib. Not a big deal though, considering all the other benefits I get from using the All-Over Bib. Would highly recommend!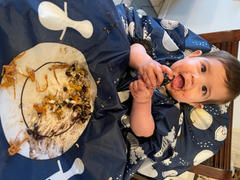 RUN BY MOMS, APPROVED BY EXPERTS
We pride ourselves on being a woman owned company, who ensure all products are rigorously tested and approved by experts.
---
MY BAG
$40.00 more for Free Shipping
Your shopping bag is empty.
WISHLIST AND COMPARE
Do you want to add products to your personal account?