FEATURES
INFO & CARE
MAYA'S TIPS
CUSTOMER REVIEWS
FEATURES
HOW IT WORKS
This bundle includes 2 Allover Bibs. While we can't totally help ease the pain of messy mealtimes, we can make the clean-up easier. Our Allover Bib contains your little one's mess at mealtime by covering everything from neck to toe, including the highchair! The single layer construction keeps yucky gunk from getting trapped, and our water and stain resistant fabric makes cleanup a breeze.
HOW TO USE
It's as simple as pulling over your little one's head and over the highchair! Use a bowl or plate on top, or place food on the plate outline directly on the bib! Once mealtime is complete, remove the bib by pulling over the baby from back to front (to avoid getting food in their hair or face). Then just shake, wipe, and you're all set to use it again! After several uses, machine wash on the gentle cycle for a deeper clean. Make sure to hang dry only (no dryer)!
WHY WE MADE THIS
Children are meant to be messy, but parents and caregivers don't have to suffer. We are all about little one's independence while keeping ourselves sane!
INFO & CARE
Our Allover Bib is wipeable and machine washable for the easy clean up you have been dreaming of!
Measurements
Sized to fit 6-24 months comfortably with stretchy elastic neck and arm holes. The loose hem allows our bib to fit all types of highchairs while it also keeps baby cool.
BPA Free
PVC Free
Lead Free
Phthalate Free
Vinyl Free
Machine wash, gentle or delicate
Hand wash
Hang to dry
Do not machine dry
MAYA'S TIPS
LET THEM BE MESSY
Children explore through touching. Mashing food supports their sensory development.
Let them play with their food. You can engage with them by asking if the food feels good, is it also yummy?
KEEP YOUR SANITY
Supporting our kid's development doesn't have to come on the expense of our sanity! To manage the mess - put small quantities of food for them to play with and add bigger quantities once they seem satisfied with their playing and ready to eat.
EASY TO CLEAN
I'm not the washing machine's slave! Take advantage of the Allover Bib's water resistance and reuse it as much as possible by shaking and wiping. To avoid food smell, use a scented wipe – until it really has to go into the washing machine! Remember hang dry only!
CUSTOMER REVIEWS
Customer Reviews
Write a Review
Ask a Question
Filter Reviews:
baby
mess
chair
food
hands
twins
times
granddaughter
tray
bowls
12/03/2020
Laurie M.
United States
I recommend this product
Great idea
Exactly what I needed for my six month old granddaughter. Once the baby starts eating with hands, this is perfect to keep the mess in one area. Easy to clean and very worthwhile.
12/03/2020
Brittany H.
United States
I recommend this product
Oh my gosh, BUY THEM ALL
We are aaaall about our all over bibs. She can splash and squish and explore her food with next to no worry about needing 3 baths a day. She can get a little distracted by it sometimes, but that's usually how we decide she's done eating. How can you be mad when all you have to do is wipe the face and hands and sweep the bib off her? I spray it down in the sink and then drape it on a door handle to dry between feedings. We don't use anything else!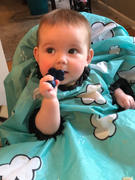 12/03/2020
Geoff S.
United States
I recommend this product
Life saver
This product is amazing and helps to reduce time spent cleaning up and saves money as it relates to clothing!
11/06/2020
Patrick W.
United States
11/02/2020
Morgan T.
United States
RUN BY MOMS, APPROVED BY EXPERTS
We pride ourselves on being a woman owned company, who ensure all products are rigorously tested and approved by experts.
---
MY BAG
Your shopping bag is empty.
WISHLIST AND COMPARE
Do you want to add products to your personal account?