Easy One-Pot Ghoulish Beef Goulash
Posted by WHITEBLANKSPACE BY HEE JEE LEE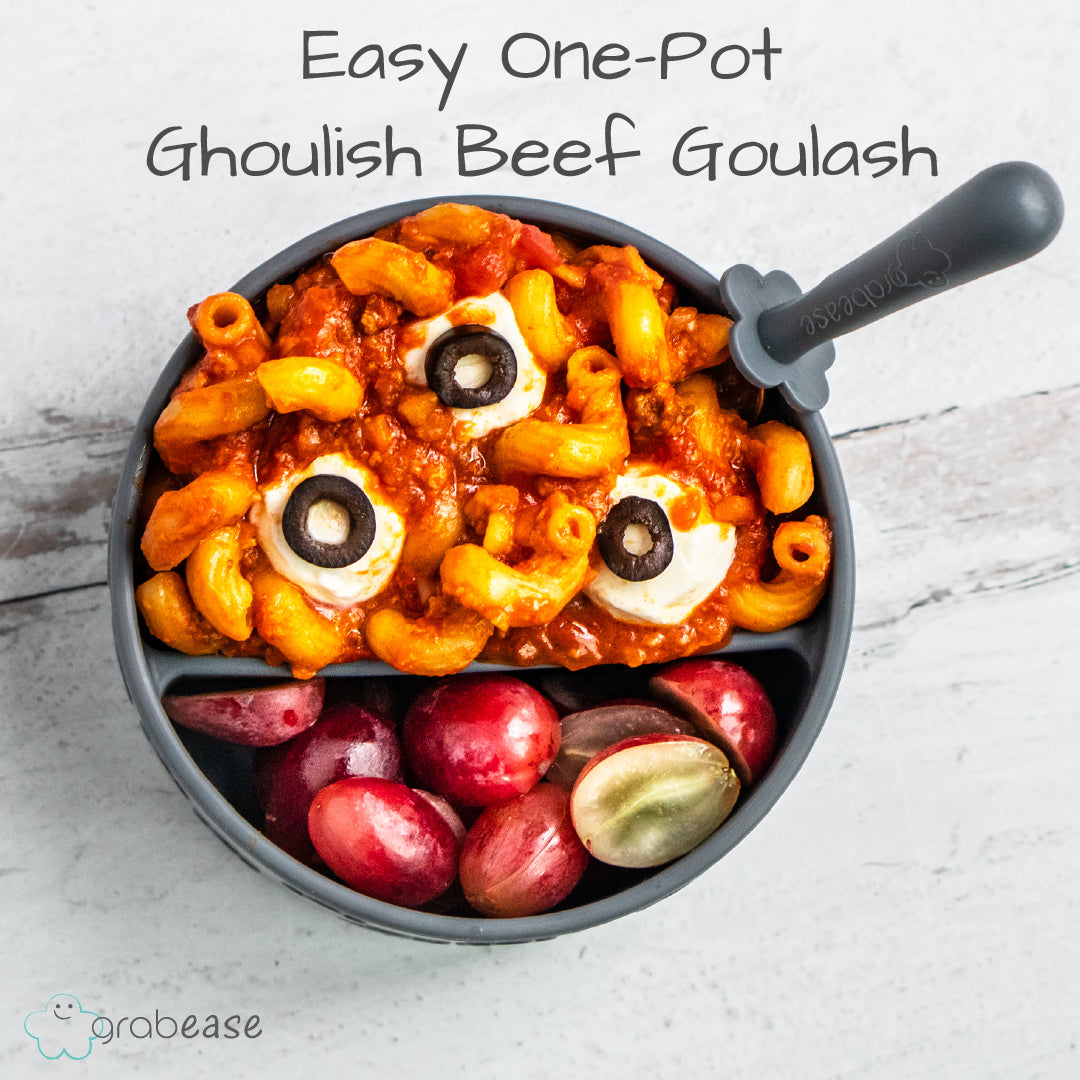 Fun Halloween recipes for kids
I love cooking Halloween-themed foods, and not only sweet treats. Sweet treats. Healthful halloween recipes can make mealtimes extra festive and fun without adding more sugar to kids' diets in this candy-laden season. Add spooky fun to your family's October suppertime with this easy, adaptable recipe four Ghoulish Ghoulash!
A healthy fall dinner recipe
My "Ghoulish" Beef Goulash is not only fun but also filled with protein, veggies, and pasta all in one dish. It's flexible, too! You can substitute the ground beef with your choice - Ground chicken, turkey, or for more veggies try lentils, beans, or meat substitutes. Best of all, you can cook this meal in one pot! And to create that creepy Halloween vibe, all you've got to do is garnish your ghoulash with mozzarella balls and black olive slices on top to create spooky monster-like eyeballs. 
Helpful (and budget friendly) tips to get more veggies into your kids' diets
Typically, goulash is made with ground beef, but I like to swap half of the meat with riced cauliflower. Mixing riced cauliflower is a trick I use for many ground beef recipes to make it lighter and to get more veggies into my kids' bellies. Since cauliflower is a mild-tasting vegetable, it pretty much disappears into the dish. Also, you save money by swapping beef with cauliflower!
Kid Approved Recipe: Easy One-Pot "Ghoulish" Monster Beef Goulash 
Servings: 6
Prep time: 15 minutes
Cook time: 45 minutes

Ingredients:
1 tbsp olive oil

1 small onion, diced

1 (12 oz) package frozen riced cauliflower, slightly defrosted

1 tbsp salt

1 tbsp minced garlic

1 lb ground beef

2 tsp paprika

2 tsp oregano

2 tbsp tomato paste

2 (28 oz) cans crushed tomatoes

2 Tbsp Worcestershire sauce

24 fl oz (3 cups) beef broth

(optional) 2 tsp sugar to cut the acid taste

1 lb macaroni or cavatappi pasta, uncooked

1 cup shredded sharp cheddar cheese

mozzarella balls

sliced black olives
Instructions:
Heat a large dutch oven/pot over medium-high heat. Add olive oil, onion, cauliflower, and 1 tsp salt. Cook for about 5~7 minutes until the onions are soft. Stir in garlic and cook for about 30 seconds.

Move the veggies to one side and add ground beef and 2 tsp salt into the empty area. While the meat cooks, break the meat apart with a spatula until it is no longer pink.

Add paprika, oregano, and tomato paste. Cook for 1 minute.

Add crushed tomatoes, Worcestershire sauce, broth, and sugar if using. Bring to a boil.

Reduce heat to light boil, add pasta, and cook until pasta is al dente, about 25 minutes.

Turn off the heat and stir in cheddar cheese.

Place pasta in a bowl. Place a few mozzarella cheese balls on top while the pasta is hot. Place sliced olives on each mozzarella ball to create monster eyes.
Tips:
I served the Monster Goulash in a grey Grabease divided silicone suction bowl. This bowl has the perfect depth that helps my 2-year-old scoop up the food. The divided section is great for serving fruits on the side. Thankfully, my youngest grew out of the throwing phase, but while we were in the thick of it, the Grabease suction bowl was my favorite as it really stuck well to the highchair tray.
Creative garnishes for spooky fun
It's easy to get the spooky effect with healthy garnishes! While the "Ghoul-lash" is still hot, top it with small mozzarella balls. I find it looks spookier when the mozzarella can melt a little bit before you smear a touch of "bloody" sauce and top with thinly sliced black olive for "monster eyes." No mozzarella nearby? you can substitute with dollops of sour cream!
You can get creative with more side dishes, too. Consider "creepy green" avocado hummus. Serve baby carrot or pretzel stick "fingers." Or create "Ghostini" crostini toasts by using a ghost (or other halloween-themed) cookie cutter. Cut the shapes out of white or wheat sandwich bread; toast lightly and serve with or without spreads.
Would you try this recipe? Please let me know in the comments if you try it out.
Shop Featured Products:
Recipe and images developed by: WhiteBlankSpace