3 Ways to Explain Baby-Led Feeding to Your Extended Family
Posted by ANDREA YIU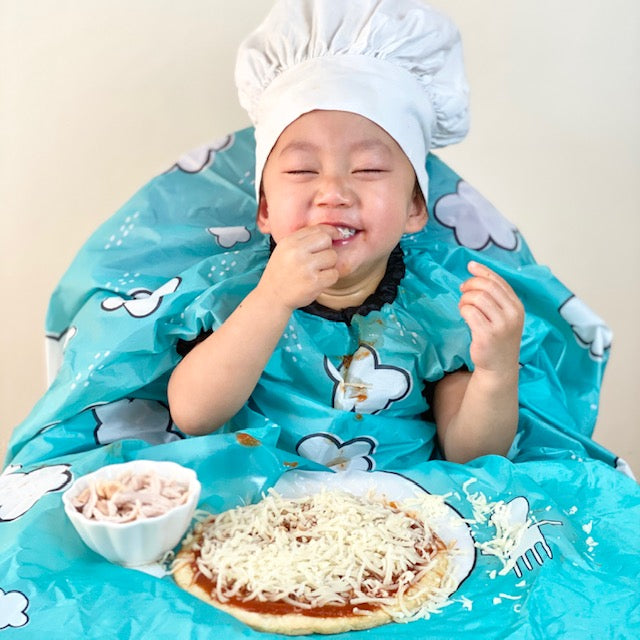 By Melanie Potock, MA, CCC-SLP
Whether it's a holiday dinner, a virtual family brunch or an outdoor family picnic, well-meaning relatives may be shocked to see you offering anything but purees to your 6-month-old.
If Aunt Betty raises an eyebrow when you offer avocado wedges from your salad, or Uncle Don scowls when baby is grasping whole pieces of pasta salad, remember that the concept is new to them.
Remember that strong opinions from relatives typically stem from their worry that your baby isn't safe trying those foods at such a young age.
Here are three ways to ensure that anyone voicing opinions doesn't ruin the event, and that you and your baby enjoy get-togethers with extended family any time of year:
1. Smile and stick to a script
It's much easier for everyone to stay calm if you keep your response concise, scripted and delivered with a genuine smile on your face. Include a bit of history and advice from feeding professionals to show you've done your research and are making an educated decision:
"I'm so glad you're interested, thank you! Yes, over the past twelve years, there has been a strong interest from professionals in offering more than just purees once baby is ready for solids. We stick to soft, squishable foods that baby can explore and learn to mouth. There's a great journal article in Pediatrics that I can send you, if you'd like to learn more."
2. Share the benefits of purees
A misconception among those new to baby-led feeding is that baby will be skipping purees. If Aunt Betty fed her own babies purees for a while before introducing other foods, this is likely to be a sensitive topic!
Purees are terrific for babies, helping to build intrinsic tongue muscles for safe swallowing and providing a variety of flavors, especially when mixed with mild spices and herbs. Along with traditional pureed fruits, veggies, etc., purees also include smoothies, sauces, yogurt and dips, all foods that we enjoy at family
mealtimes.
Whether you enjoy offering baby purees on a pre-loaded spoon, feeding baby purees via a modified baby-self feeding model or letting baby explore purees by dipping, it's all good!
Now you're bonding with Aunt Betty and you have something in common when it comes to nourishing your babies.
3. Model calm when baby gags
Seeing a baby gag can be upsetting for those new to baby self-feeding. Remember to sit at baby's eye level while baby is eating. Provide gentle encouragement while baby is attempting to expel the food triggering the gag reflex.
"There you go, you can spit it out" not only assures baby that you are right there to support her, but communicates to watching relatives that this is something you're comfortable with, and that you and baby know how to manage this situation.
It also provides an opportunity for relatives to observe baby's delight at trying again once the food is expelled, helping to decrease their own concerns about this self-feeding model.
Feeding our children is based on a nurturing, responsive relationship.
How wonderful that you're providing safe opportunities for baby to try Grandma's famous pumpkin pie and Uncle Don's buttery rolls for the very first time!
Don't forget to take pictures and note the event. Family mealtimes, whether virtual, during the holidays or simply at the park on a picnic blanket are where memories are made and now, they include your little one!
Click here for 5 Easy Foods and Recipes for Your Self-Feeding Baby!
---
Melanie Potock, MA, CCC-SLP, is an international speaker on the topic of feeding and eating for children and teens. She is the co-author of the award-winning Raising a Healthy, Happy Eater and Adventures in Veggieland plus three other books for both parents & children. Melanie's advice has been shared in a variety of television and print media, including The New York Times, The Wall Street Journal, Washington Post, CNN.com and Parents Magazine.  Contact her at www.MelaniePotock.com for more articles, professional tips, and helpful videos to raise your adventurous eater and follow Mel on Instagram and Facebook too!

Resources:
A Baby-Led Approach to Solids and Risk of Choking, Fangupo et al. Pediatrics Oct 2016
Baby Self-Feeding: Solid Food Solutions to Create Life-Long Healthy Eating Habits by Nancy Ripton and Melanie Potock, MA, CCC-SLP
Raising a Healthy, Happy Eater: A Stage-by-Stage Guide to Setting Your Child on the Path to Adventurous Eating by Nimali Fernando, MPH, MD and Melanie Potock, MA, CCC-SLP